SUPPLEMENT FACTS
Serving Size: 1 Tablespoon (approx. 15 mL)
Servings per Bottle: 31
Amount Per Serving
%DV
Vitamin A (Beta Carotene)
1012 mcg RAE
78%
Vitamin C (Ascorbic Acid)
120 mg
100%
Vitamin D3 (Cholecalciferol from Lichen)
20 mcg
133%
Vitamin E (d-Alpha Tocopherol)
18 mg
95%
Vitamin K1
80 mcg
89%
Thiamine (Thiamine Hydrochloride)
2 mg
143%
Riboflavin (Riboflavin-5-Phosphate)
2 mg
125%
Niacin (Niacinamide)
20 mg NE
111%
Vitamin B6 (Pyridoxal-5-Phosphate)
2 mg
100%
Folate (Calcium Folinate)
666 mcg DFE
111%
Vitamin B12 (Methylcobalamin)
10 mcg
357%
Biotin
35 mcg
100%
Pantothenic Acid (Calcium Panothenate)
10 mg
143%
Calcium (Calcium Citrate)
25 mg
<2%
Iodine (Potassium Iodide)
150 mcg
52%
Magnesium (Magnesium Citrate)
25 mg
6%
Zinc (Zinc Citrate)
10 mg
77%
Selenium (Selenium Amino Acid Chelate)
35 mcg
50%
Manganese (Manganese Amino Acid Chelate)
2 mg
77%
Chromium (Polynicotinate)
45 mcg
100%
Molybdenum (Molybdenum Amino Acid Chelate)
50 mcg
100%
Potassium (Potassium Citrate)
50 mg
<2%
Choline (Choline Bitartrate)
50 mg
9%
Inositol
15 mg
**
Aquamin® Trace Minerals
44 mg
**
Digestive Health Blend
1225 mg
**
Fructooligosaccharides, Isomalt Oligosaccharides, Bromelain, Papain
Organic Fruit Blend
50 mg
**
Lycii/Goji (Lycium spp., fruit) Extract, Acai (Euterpe oleracea, fruit), Beet (root)
**Daily Value (DV) not established.
† %Daily Value for pregnant or lactating women
Other Ingredients: Steam Distilled Water, Fructose, Citric Acid, Natural Flavors, Xanthan Gum, Gum Arabic, Potassium Sorbate (preservative), Stevia Extract
Customer Reviews
Write a Review
Ask a Question
06/23/2022
Monica B.

United States
Great alternative
Great alternative to the pill form of vitamins. Theres one big draw back though ... I think this should come with some sort of measurement device for your dosage! Pretty disappointed I had to try and find some sort of measuring cup to be able to ensure im taking the correct amount.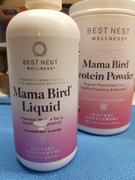 Yum
This is great! I was initially taking the pill form of the vitamin and wasn't too crazy about the taste it left in my mouth. This liquid version tastes like the Flintstone vitamins I used to take as a kid mixed with a tart fruit. I liked those vitamins so I think it's great! (I know others who aren't to crazy about that flavoring though so I'm thinking those who like it will vary person to person) I don't really get strawberry from it though. Still very happy with this vitamin.
Love it
I've been using their products since I found out I was pregnant. I love that they have what both baby and I need so that's one less thing for me to worry about. I've been using the multi vitamin, DHA, and Probiotics. As I've gotten further along in my pregnancy nausea sometimes cause me to have trouble with pills. I'm so glad they made this product. It doesn't taste like medicine. Smells like flinstone vitamins you probably took as a kid. I would order again…. I also recommended for my sister cause she doesn't take pills.