Best Pregnancy Bundle
This bundle is perfect for those who are trying to conceive, mom-to-bes, and breastfeeding moms.
What's included in the bundle?
Mama Bird™ Prenatal Multi+

 || Once-daily prenatal multi+ formulated with 100% methylated vitamins and superfoods. Plus it's vegan!



One Fish Two Fish™ Prenatal DHA

 || Ultra-pure omega-3 fish oil in the superior triglyceride form. DHA is a critical nutrient for your baby's neurodevelopment.



Mama Body Butter - Sweet Orange 

|| Unique blend of 100% organic oils and cocoa butter hydrates and soothes itchy and dry skin, improving skin texture.
Customer Reviews
10/26/2019
Tasha M.
United States
Pregnancy bundle
I purchased the pregnancy bundle to prepare my body for pregnancy as me and my husband plan on having a baby soon. The fact that the folate is methylated was my selling point as I don't seem to absorb vitamins well. I work with special needs children and I've seen the result of newborn babies not absorbing folate properly while in the womb and how big of an impact it can make. Also I'm usually super sensitive to iron but stay anemic. This prenatal has not upset my stomach at all and the one fish two fish has minimal to no fish burps. My skin stays dry so I decided to go ahead and start moisturizing my skin with the body butter. The smell isn't the best but it's not too strong and it's more tolerable than a lot of these comments say in my opinion. I plan to continue to take these throughout my future pregnancy as I feel I'm taking the best quality prenatal that I have found yet without all the harmful, unneeded ingredients.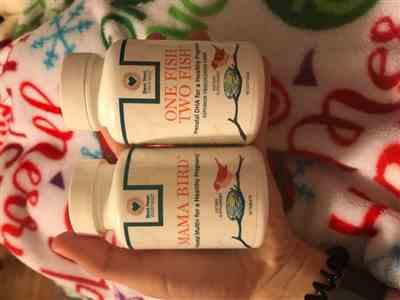 10/17/2019
Kristina S.
United States
Best Pregnancy Bundle
The prices on these products are comparable to other prenatal vitamins I've used in the past. But I'm really thankful to be using a vitamin with the correct folate for my body. The Mama Bird prenatal hasn't triggered any severe nausea (although it's still a tad early for that) and the One Fish Two Fish supplement doesn't leave a strong fishy aftertaste like most similar products do. The Mama Body Butter recommended for use later on with the growing belly is something I'm enjoying using on my hands before bed. As far as results go, it's been about a month since I began using the Mama Bird prenatal and I've been feeling just fine. I have a tendency towards severe morning sickness and possibly Hyperemesis Gravidarium, and have already begun suffering by 6 wks. in the past, but not this time. I'm hoping that the Mama Bird vitamin has something to do with it ❤️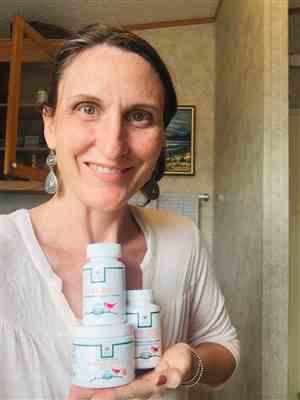 10/03/2019
Tomyra G.
United States
best bundle
Products are safe. I love them. I've been using since I found out I was expecting a bundle of joy.
09/30/2019
Taylor Q.
United States
Perfect ingredients
Great! I love that the doses are small and I don't have to take 1,000pills 3x a day.
08/08/2019
Brittany L.
United States
Best Prenatal Vitamins
It took a lot of researching to find a great all natural prenatal vitamin and I found it in Best Nest Wellness! I like that it has everything I need and the ingredients are all natural. I def recommend to expecting mamas!
08/07/2019
Laura R.
United States
the best
This has been the most amazing vitamins I have ever use!
07/12/2019
Tia E.
United States
Will buy again
I researched for quite awhile before deciding on a prenatal for our IVF journey. The vitamin & DHA supplement are wonderful. No upset stomach or horrible smell from them. At first I was not a fan of the mama butters orange scent. As I've used it though, it has grown on me. It seems strong when first applied, but once it's absorbed it's subtle. I have stopped using my favorite perfume due to the chemicals and it's nice to smell like something other than Shea butter. I will definitely be ordering the bundle every month. Thanks!
05/27/2019
Lana B.
United States
Thank you!
Wonderful! Very pleased with your products so far.
01/01/2019
Julia B.
United States
Love this bundle
I started out with the Ready, Set, Go fertility vitamin. I had post pill amenorrhea after going off the pill in December 2017. After going off the pill, I ovulated ony once in June 2018, and that was it. In September, I decided to try Ready, Set, Go because it contained Vitex, and I wanted to give my body some gentle help with remembering how to ovulate. On my third month on this vitamin, I ovulated, and got pregnant. I am now 9 weeks pregnant and loving the Mama Bird prenatal and the DHA. They are easy to take. No fishy taste in the DHA. The orange body butter smells AMAZING! Like chocolate orange. It is silky smooth and so easy to rub onto my skin. It is extremely moisturizing. I can still feel it on my skin when I wake up the next day. I will continue to purchase this bundle!