Mama Bird® Liquid Multi+
The advanced liquid prenatal vitamin with active methylated vitamins for a healthy pregnancy.
SUPPLEMENT FACTS
Serving Size: 1 Tablespoon (approx. 15 mL)
Servings per Bottle: 31
Amount Per Serving
%DV
Vitamin A (Beta Carotene)
1012 mcg RAE
78%
Vitamin C (Ascorbic Acid)
120 mg
100%
Vitamin D3 (Cholecalciferol from Lichen)
20 mcg
133%
Vitamin E (d-Alpha Tocopherol)
18 mg
95%
Vitamin K1
80 mcg
89%
Thiamine (Thiamine Hydrochloride)
2 mg
143%
Riboflavin (Riboflavin-5-Phosphate)
2 mg
125%
Niacin (Niacinamide)
20 mg NE
111%
Vitamin B6 (Pyridoxal-5-Phosphate)
2 mg
100%
Folate (Calcium Folinate)
666 mcg DFE
111%
Vitamin B12 (Methylcobalamin)
10 mcg
357%
Biotin
35 mcg
100%
Pantothenic Acid (Calcium Panothenate)
10 mg
143%
Calcium (Calcium Citrate)
25 mg
<2%
Iodine (Potassium Iodide)
150 mcg
52%
Magnesium (Magnesium Citrate)
25 mg
6%
Zinc (Zinc Citrate)
10 mg
77%
Selenium (Selenium Amino Acid Chelate)
35 mcg
50%
Manganese (Manganese Amino Acid Chelate)
2 mg
77%
Chromium (Polynicotinate)
45 mcg
100%
Molybdenum (Molybdenum Amino Acid Chelate)
50 mcg
100%
Potassium (Potassium Citrate)
50 mg
<2%
Choline (Choline Bitartrate)
50 mg
9%
Inositol
15 mg
**
Aquamin® Trace Minerals
44 mg
**
Digestive Health Blend
1225 mg
**
Fructooligosaccharides, Isomalt Oligosaccharides, Bromelain, Papain
Organic Fruit Blend
50 mg
**
Lycii/Goji (Lycium spp., fruit) Extract, Acai (Euterpe oleracea, fruit), Beet (root)
**Daily Value (DV) not established.
† %Daily Value for pregnant or lactating women
Other Ingredients: Steam Distilled Water, Fructose, Citric Acid, Natural Flavors, Xanthan Gum, Gum Arabic, Potassium Sorbate (preservative), Stevia Extract
Customer Reviews
Write a Review
Ask a Question
11/18/2022
Jean

United States
Better Option but...
It's a better option than lots of the other similar products out there but it still could be better. It's great that it is non-GMO and does not have any artificial colors or flavors in it but it is not all organic. If it was all certified organic then it would be much healthier! It is helpful though if you have a hard time swallowing pills or if you cannot and need a different way.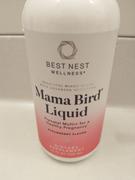 11/03/2022
Ashley

United States
Easy on the stomach with no bad aftertaste
I chose this Best Nest Wellness Mama Bird Prenatal Liquid Multi+ Vitamin to help with my post-natal nutritional needs. I like the strawberry flavor - it masks the signature taste that prenatal vitamins normally have. I've never tried a liquid prenatal vitamin before, so I really liked this format over taking a pill. It's only a 1 tbsp serving daily with or without food. It is easy on the stomach and does not make me nauseous. The liquid has a very thick consistency, which might be a little off-putting. If you don't like super thick liquids, you can likely mix this into a fruit smoothie. The bright orange color of the liquid is also very stark. It's a bit jarring, as it reminds me of a fish oil supplement I used to take. Those issues aside, this is a great alternative to taking large prenatal vitamin pills that you have to swallow. Definitely check your bottle closely to make sure the top seal is not broken. My bottle had a slight leak on the top from when it was shipped.
11/02/2022
Diana H.

United States
Highly Recommended
After taking these supplements, I'd highly recommend Mama Bird Liquid Dietary Supplements for a healthy pregnancy. They also promotes energy and improves your memory.
10/29/2022
Melissa

United States
Pleasantly surprised
I tried this prenatal and I was pleasantly surprised. It is thick and orange when you pour it out, so it looks very off putting. It actually tastes like strawberry and it's good! I love that it has folate instead of folic acid, and includes some digestive health enzymes. Sometimes the prenatal pills can be tough on my stomach, but this didn't bother me at all! It has to be refrigerated, which doesn't bother me. I go in the fridge so often that it's a reminder to take it every day! I will continue to buy this liquid vitamin.