Mama Bird® Milk Support
Mama Bird Milk Support is a lactation supplement crafted with a blend of time-tested herbs that support healthy milk flow in nursing mamas.
SUPPLEMENT FACTS
Serving Size: 2 Vegan Capsules
Servings per Bottle: 30
| | | |
| --- | --- | --- |
| | Amount Per Serving | %DV |
| Fenugreek Complex(Fenugreek Seed, extract standardized to 50% saponins) | 500 mg | ** |
| Organic Moringa (from Horseradish tree [Moringa oleifera] (Aerial Parts)) | 400 mg | ** |
| Thistle Complex (Blessed Thistle (Aerial Parts), Milk Thistle (Seed)extract standardized to minimum 80% silymarins) | 110 mg | ** |
| Organic Stinging Nettle Leaf | 30 mg | ** |
| Raspberry Leaf | 10 mg | ** |
**Daily Value (DV) not established.
Other Ingredients: Vegan Capsule, Calcium Phosphate, Cellulose, Calcium Stearate (Vegetable Source), Silica
Customer Reviews
Write a Review
Ask a Question
11/18/2022
Ajt296

United States
Boosted supply quickly
I started taking Mama Bird Milk Support a few months into breastfeeding my baby when I went back to work and had to start pumping. I was a bit skeptical but really blown away by the difference this support has made. I had no supply issues while nursing but do not love pumping and was nervous about a drop in supply. When I took the Mama Bird support in the morning, I pumped more milk than days when I did not take it. I also try to start slow on supplements to see how my body reacts, so I only took 1 pill instead of 2 the first time. I was actually surprised by the difference and how immediate it was on the first day that I took it - an extra ounce than normal a few hours after taking the first time. I only take this on work days when I pump because it is a bit pricey. I have not noticed any adverse affects from the supplement. I would definitely recommend.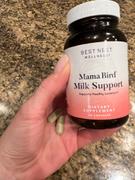 11/10/2022
Kelsey

United States
Quality Product
The Mama Bird Milk Support supplement was a good addition to my daily pills. I especially love that they are vegan as my daughter is allergic to milk products. This product has very nice and secure packaging, the bottles are made of glass which is really cool. The pills do not smell weird like some other supplements that claim to increase supply.
11/02/2022
Viktoriya

United States
Great supplement
I wasn't producing enough milk for my baby. This product helped me with producing more milk for my little one. I have been taking it everyday to keep up with the supply. I like how it's natural and has no harmful ingredients. I just wish it would be less expensive as I would be purchasing it on monthly basis. This product was a gift.
10/28/2022
Lisa

United States
Love it!
My experience has been amazing and I just bought another bottle! I have been pumping for the last 7 months of my life...and worrying about preventing clogs and pumping enough for my baby. I yried a lot of different things to boost my supply but nothing has been more successful and consistent than MamaBird lactation supplement! I really have more peace of mind because since taking this supplement, my milk supply has been consistent, produced more and less clogs! I cannot recommend this healthy supplement enough!